Pumpkin Spice and Everything Nice!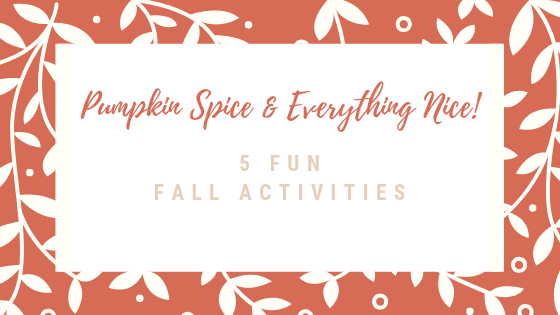 When you think about fall, what comes to mind?
For me, it is the house smelling of apple and cinnamon. Taking the kids apple picking. Fields laden with the biggest pumpkins. The kids rolling with laughter as they go around the farm enjoying a hayride, their shouts of glee reverberating through the air. The scarecrows in patched up cothes popping up from between the pumpkins.
Drinking apple cider. Tart, sweet. Toffee apples waiting to be devoured. Warm cinnamon donuts dusted with sugar.
The leaves changing color. Leaves everywhere, yellow, brown and red. Some raked into neat piles on front lawns, some waiting to be collected, going where the wind takes them.
Home porches spruced up with fall decor. New wreaths made of fall leaves hung upon doors, pumpkins piled up on the porch. Some who can't wait for Halloween put up their decorations too (I'm looking at you dear neighbor!). My favorite memory of fall is witnessing it in Vermont, truly a sight to behold. The iridescent colors of the trees in row upon row of rolling hills.
As we begin to come into Fall, here are some fun activities that you can do with your kids, one of each kind!
1. Home-made apple cider
If it's easy as ABC then why not make it at home? This recipe involves throwing in all the ingredients into a slow cooker and waiting for the aroma to waft through your home.
2. Craft
Art with memories - a win-win! Use your little one's footprints to make a tractor. Bonus - use them as cards for father's day or for the grandparents or frame them.

3. Decor
Here is a beautiful wreath you can make with your kids this fall!

4. Baking
Kids will love to make these easy and colorful snacks that spell and smell Fall!
5. Family Fun
After your visit to the farm, play a round of farm animal charades. It is fun for children and adults alike to enact all the different animals at the farm.
I hope you relish the joys this season brings!